I ran the Self Transcendence Marathon yesterday. This is a small marathon usually held during the week in Nyack, NY. There is not a lot of info on the web about it so I figured I should do a blog posting. Hopefully anyone considering this race in the future will stumble across this race report – it is a cool, offbeat race which is worth running if you within easy striking distance.
The race is organized by the followers of
Sri Chinmoy
. The best way to describe the group is that they adopt the philosophies of Sri Chinmoy to unlock spiritual awareness that allows you to achieve tremendous physical accomplishments (hope that does them justice). The bulk of the runners were Europeans as I think that is where Sri Chinmoy hails from, so there was a very eclectic mix of languages on the course. They also turn out in full support, playing music and reading poetry on the course to inspire runners. A little different than any other race I've run before. In addition to Sri Chinmoy followers there was a nice contingent of Marathon Maniacs, which is always cool.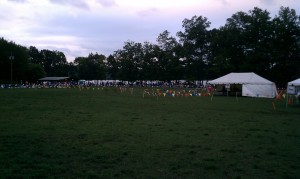 The course is a 2.96 mile loop around Rockland lake in NY, so it is a scenic ride. I did this as a training run for my Fall schedule so I was able to take it easy and take in the scenery (and poetry). Since it's a loop course and they had 3 aid stations out, you had constant access to food/water-sports drink. They do a great job supporting the runners. The entry fee is low, the cotton shirt is nice and the medal is unremarkable. Overall a thumbs up from me – I will probably put it on the calendar for next year as it is within semi reasonable driving distance the morning of the race!