I ran the Fargo Marathon 2 weeks ago. I signed up for this race in the beginning of March, hoping to parlay any fitness I had left from my Fall marathons from last year. I ended up running a 4:18, which I was a little disappointed with, considering I was hoping to come in closer to 4:00. I think the condensed training cycle left me inadequately prepared. Traveling to North Dakota the day before didn't help me either – two planes, one of which was a missed connection, sucked a little life out of me. Lesson learned: next time plan a day of travel for each plane involved in getting to the destination.
Fargo was a nice race – the entire city gets behind this race. It starts and finishes at the
Fargodome
, which is a nice touch and provided nice cover, considering it was pouring rain at the start. I didn't realize until midway through the race that part of the course runs through Minnesota, which was cool and a nice prelude to the Twin Cities Marathon in October. I ended up sharing the last few miles with Janet (pictured below) who had previously run Grandma's Marathon in Duluth, Mn. Thanks to Janet's husband for my only race photo.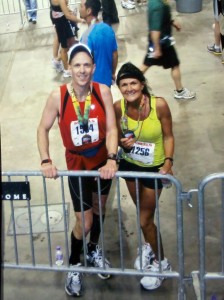 So I have 16 weeks until the Twin Cities Marathon on Oct. 2nd. I will likely treat Twin Cities as a training run for the Philadelphia Marathon in November but am still a little on the fence. The only thing I know for sure is I am anxious to run a ton of miles over the summer and to dedicate the bulk of it to training by heart rate. Other than that, I am just looking forward to running a bunch of races in the Fall.