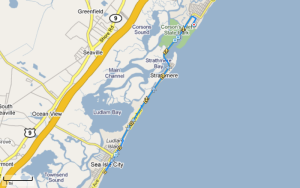 I've been on vacation for the past week in Ocean City, NJ. I managed to cram in about 51 miles in the six days we were down there. Something about running someplace new, along the ocean, when I don't have to be heading to work afterwards that just makes me want to lace them up and go (the fact that I was guilt ridden over eating like a pig helped also). I'm pretty sure I would have went well over 60 miles but I did take a day off due to my achilles squawking at me a little bit one day. Otherwise, I maintained a steady diet of 10 mile days. Now that I'm back I think I'll concentrate on adding in a strong midweek tempo run and stretching out my Sunday long runs in preparation for upcoming Fall marathons.
Mrs. Progman has also been hitting the road hard in preparation for the upcoming
Asbury Park Marathon relay
on October 18th. She is considering running the the
Pier Village 5k
this coming weekend. I have also been looking at races to run in the next month or so to gauge my current marathon fitness. The
Jersey Shore Half Marathon
is tantalizingly close but the desolate two loop course kind of turns me off. Two other interesting possiblities are the
Brielle 10k Challenge
on September 12th or the
Newport Liberty Half Marathon
on September 27th. Or I could just whimp out and run a bunch of easy miles sans race fees. We'll see.