Wow, no blog posts in September – I'm lame. Does't mean I've stopped running though. I logged 187 miles in September and have already run over 1500 miles in 2009, surpassing my 1401 total miles in 2008. I had a back pocket goal of 2009 miles in 2009 but that doesn't seem likely now unless I crank it up a couple of crazy notches (hmmm…). I've got the Asbury Park Marathon next weekend and then the Philadelphia Marathon in November, so if I can keep from getting injured, who knows.
So, my September recap, in pictures:
Mrs. Progman rocking the Susan Koman 5k at Great Adventure (#3082, so proud that she is not wearing a MP3 player):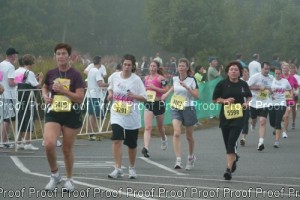 My new Fall Marathon Hat – the Brooks Nightlife hat – It is far brighter than the much uglier RRS Sports Hat I retired this year, I love it:

Me running a 20 miler with
ShoreTurtle
last weeked (picture shamelessly poached from his site):
That's it. Hope to have some cool Asbury Park Marathon photos after next weekend.