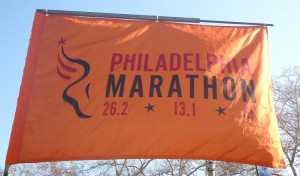 Today broke the streak of crappy weather marathons for me. The weather couldn't have been better for this year's Philadelphia Marathon. Last year the weather was 22 degrees at the start. This year it was a balmy 44 degrees and would rise to at least 50+ by the end of the race.
This is a great race. I was signed up for the marathon last year but had to run the half marathon due to an injury, so I was already familiar with the center city portion of the race. The second half runs along the Schuylkill River and up to the town of Manayunk before it turns around to return to the art museum. I loved the second half – the crowds in Manayunk lived up to their reputation. Also being able to see the lead runners on their return leg was very cool.
The gorilla in the room for me right now is a sub-4 hour marathon. I didn't feel 100% confident going in to this race that I had it me but I planned my race around it anway. I purposely took the first half of the race very easy and crossed the half at 2:03:17, hoping that would leave me enough gas in the tank to negative split the second half of the race. Today wasn't the day however; the hills in Manayunk took their toll and I had a hard time once I hit 21 miles. All things considered, I am still happy with the race I ran and will take the 2 minute PR. My chip time was 4:09:16.
Mrs. Progman came out with me for this race and was awesome in the role of crowd support. An added bonus to this race was being able to hang out with Mr & Mrs Flyers26 on race eve. Flyers ran a solid race and shaved close to 10 minutes off his PR. Some pics from Mrs. P:
Coming into the finish


The most awesome spectator on the course


Post race under the shade of the ugly yellow hat


With Flyers post race